New year, new stuff! Watch for our announcement on improvements and new content being added to our community.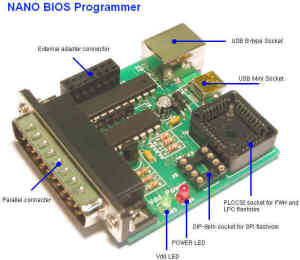 We are happy to announce the launch of a new service. You now have the opportunity to ship your broken bios chips to us to have them reprogrammed. We will be charging $15 US per chip plus shipping charges.
How Does the Proccess Work?

Please read through the following guidelines and requirements for this service:

The motherboard itself should not be broken in the first place - a new bios chip will not repair a damaged motherboard from overclocking or overheating.
We require that the bios use PLIC or DIP8 chips. If we are unable to reprogram your chips for whatever reason we will give a complete refund including shipping charges.
No soldered chips are permitted at this time - the bios chip has to be removed from its socket.
The only bioses we flash are the ones in the Forums Confirmed sections or an official BIOS posted by the retailer. We do not reprogram chips with our mods which have not been confirmed.
After you have purchased your chip reprogramming, you must send your name, motherboard model, and the bios you want flashed to the emails below depending one where you live. Once we recieve the email, we will send a confirmation message with the shipping address as well as an ETA for the chip to be returned. Please make sure that your shipping is prepaid both ways, but we can accomadate people who are having difficulties negotiating shipping.
1234s282 & TheWiz Have Both Received Their Programmers - Service is operational.
| | |
| --- | --- |
| Checkout Here for International Orders | Checkout here for USA Orders |
| | |
| 1234s282 AT bios-mods DOT com | thewiz AT bios-mods DOT com |
Kindest Regards,
1234s282 & TheWiz

BIOS-Mods Member Chat
To join us in the community live chat, please register or login.