Posts Tagged 'overclocking'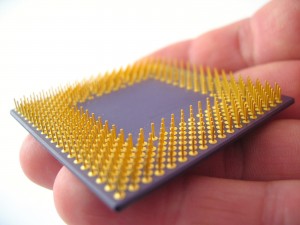 Overclocking your CPU can be risky business, however if done properly and with the proper amount of care, it can improve system performance anywhere from 5% to 50% depending on the CPU and how it is overclocked. In this article, I am going to discuss the various methods, benefits and downfalls of overclocking. Remember, ALL forms of overclocking beyond the manufacturers specifications voids the warranty and has the potential of "bricking" your CPU, Motherboard, or both. Therefore I take no responsibility what happens to your CPU/Motherboard if you attempt an overclock. If you are not technically inclined, or feel uncomfortable changing these settings, please give it to someone who is or just don't try it.
Overclocking creates  extra heat, so it is a good idea to buy a good heat sink to dissipate the extra heat.
The safest and perhaps the easiest way to overclock your CPU is if you have that option in your BIOS's setup. There are often times the BIOS will contain options to change the FSB (Front Side Bus) frequency or CPU clock multiplier. However, as this article is about overclocking without this feature, I will skip this step.
If your motherboard's BIOS does not have an overclocking feature, do not worry, there are other options. The first option you have is to overclock using overclocking software. overclocking via software basically changes your FSB frequency or the clock multiplier in your CPU. In order for this method to work, you must have one of two things:
Click here to read more...
The ASUS Crosshair IV Formula motherboard is one of ASUS' latest motherboards for the AMD platform. A fully featured ATX motherboard using the 890FX chipset, the Crosshair IV can handle today's latest standards. USB 3.0, Sata 6Gbps, Crossfired GPUs, and six-core Black Edtion CPUs are  all "standard" features that are supported on the 890FX chipset. Not only is it equipped with the latest hardware specifications, but its ability to Overclock and tweak on demand in the BIOS, Windows, and even remotely from another computer makes this board worthy of your Black Edition CPU.
In our test rig at BIOS-Mods, we tested the AMD Phenom II 1090T X6 BE paired with 8GB of G.SKIL DDR3 1600mhz of RAM. We were impressed by how high of an overclock could be achieved, and how simple it was to do with the BIOS and tools ASUS provided in the setup CD. By using the "AI Tweaking utility" in the BIOS, we were able to overclock from 3.2Ghz to 4.2Ghz without any knowledge of the overclock. Here's how it's done:
Click here to read more...