06-02-2015, 09:25 AM (This post was last modified: 06-02-2015, 09:34 AM by rootuser123.)
(06-02-2015, 09:02 AM)

lybxlpsv Wrote:

(06-02-2015, 05:21 AM)

Oleh Wrote: To enable access to all regions, need a hardware programmer. Sometimes the menu is hidden items that provide access to ME

aww, no cpu oc for me then.
how about intel gpu oc? requires EM modification too? doesn't seem to be anything interesting on the vbios with intel bmp tool.

latest vbios is 2170, mine is 2137. which version do you have rootuser123?
Version 2089 from October 2010 using gpuz to view bios version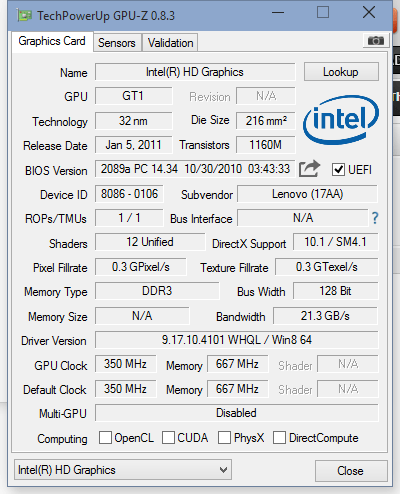 ---
Lenovo X130e Configuration:
Intel Celeron 857 @1200 MHz
Intel HD Graphics 2000 GT1
8GB Samsung DDR3-1333 SO-DIMM Dual Channel
Intel HM65 Express Chipset
Broadcom 802.11 a/b/g/n Wireless Card
Samsung 840 EVO 250GB SSD
Windows 10 Pro 64-Bit Edition with UEFI Boot Enabled
Thanks to @BD-Master and @Oleh for all the help