So here is package to create an 
Unlocked BIOS for Gigabyte Aero 15 Classic (9th gen processors). It is based on the version "BIOS B04 & DC F003"
. It has been tested on an Aero Classic WA with i7-9750H and RTX 2060. It should work on other models of Aero Classic 9th Gen processors, as long as they use the same BIOS version.
I did not make the mod, but I am sharing it here since there seems to be many people who are interested on it, and it seems hard to get.
USE IT UNDER YOUR OWN RESPONSIBILITY. FLASHING AN UNOFFICIAL BIOS VOIDS YOUR WARRANTY, AND MAY RENDER YOUR DEVICE UNUSABLE IF ANYTHING GOES WRONG. I DECLINE ALL RESPONSIBILITY FOR ANY PROPERTY DAMAGE, DATA LOSS OR ANY OTHER KIND OF LIABILITY CAUSED BY THE USE OF THIS BIOS MOD PACKAGE.
1. Install the Correct Official BIOS
First of all, download and install the official "BIOS B04 & DC F003" package from Gigabyte's site. I will put an additional download link at the end of this post, in case Gigabyte replaces it for a newer version and takes it down.
2. Download BIOS mod package
Download and uncompress the BIOS mod package, linked at the end of this post
3. Dump BIOS
Run 01-DUMP.bat as administrator. It will generate a dump.rom file at the same directory. This BIOS file is exclusive for your machine.
4. Replace Module
Run 02-REPLACE.bat as administrator. It will replace some modified modules base on dump.rom, and make a unlocked BIOS named dump2.rom. 
It may take a while and some command windows will appear. If it gets stuck for several minutes, press Enter as many times as necessary, but do not close the window.
5. Change BIOS Lock Variable
This is the most difficult step. We will create a bootable GRUB-EFI disk, with Secureboot capabilities. Then, we will use it to change the BIOS lock variable, so we are able to flash an unsigned BIOS.
a) Prepare a USB or SD Card, and run 03-BOOTUSB.bat. Follow the on-screen instructions to create a bootable device.
b) Reboot your laptop with the USB/SDCard plugged. Press F12 on startup for Boot Menu, and select your USB/SDCard. Unless you already disabled Secure Boot, you will get a blue "Access Denied" screen.
c) Do the Following:
  - Press Enter to select "OK"
  - Press any key before the timeout expires
  - Select "Enroll key from disk"
  - Select the first device on the list
  - Select "ENROLL_THIS_KEY_IN_MOKMANAGER.cer"
  - Select "Continue"
  - Select "Yes"
  - Select "Reboot"
  - Then press F12 again for Boot Menu, and select your USB/SDCard

  - This will get you to the GRUB prompt: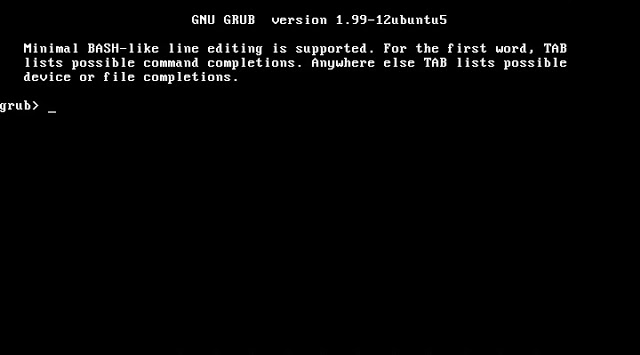 d) At the GRUB prompt, type exactly this command:
Be very careful not to make any typos, because that could ruin your whole BIOS and hard-brick your laptop. We want to change the hex address 0xB48 from 0x01 (locked) to 0x00 (unlocked).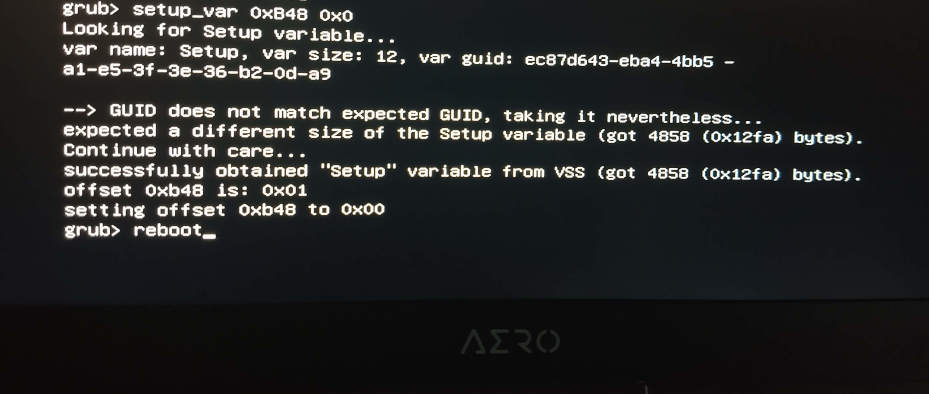 e) Type "reboot" and press Enter, to return to Windows.
6. Re-Flash BIOS
Run 04-FLASH.bat as administrator to flash modded BIOS.
You should be able to reboot now into an unlocked BIOS: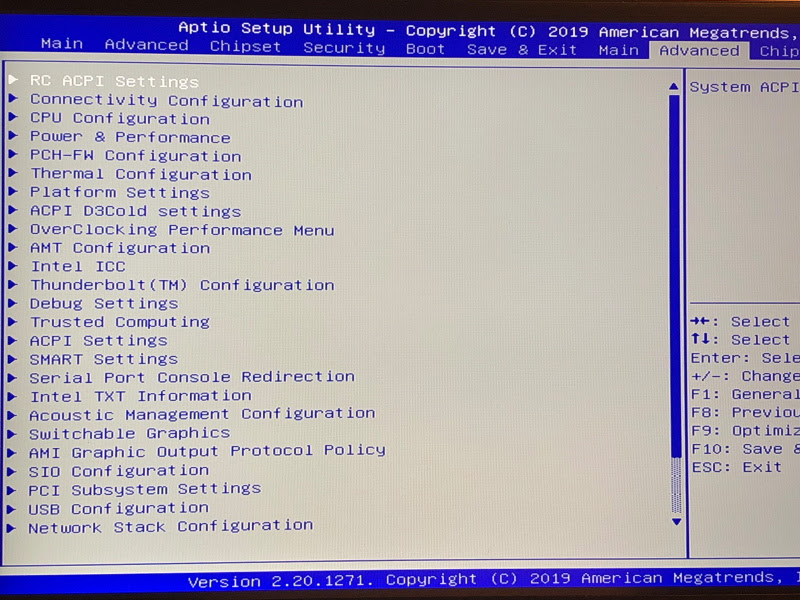 Official Gigabyte BIOS B04 & DC F003: >>Link1<<         >>Link2<<
BIOS mod package: >>Link1<<    >>Link2<<