Hello, i have a broken screen on my AAO D250 - original one (LTN101NT02) with the resolution 1024x600. I buy a new one LP101WH1-TLA with 1366x768.
I do not have the schematic for the oroginal panel LTN101NT02, but i checked the schematic for compatible LP101WSA
Both have the LVDS 40pin connector and both have same LVDS signals.
I checked the connected pins on the 40 pin connector on the back side of panel and there are connected all that needed.
But when i connect the new one, i have only blank screen all the time from the start of the netbook. I can change the backlight in a few steps, but it doesn't work fine.
The external VGA works fine, when i boot into WXP and start the Intel icon, it shows the correct info, that the panel has resolution 1366x768. Even if i change the resolution the panel did not show anything.
I search through the internet and find out that this maybe caused because of:
1) the old Video BIOS
2) the BIOS has whitelisted only 1024x600 resolution on internal LCD.
I attached the screenshot about the info of my video card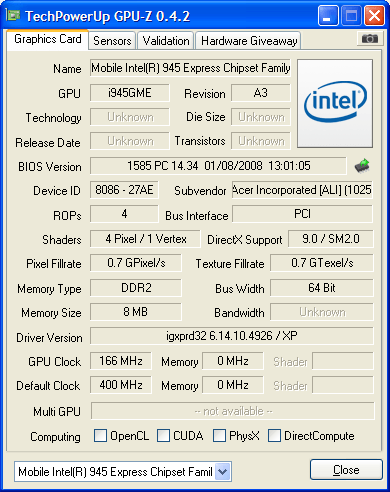 I know that there was a AAO D250 in Norway with screen 1280x720 (
http://liliputing.com/2009/07/acer-launc...creen.html
)
So why not use the 1366x768 panel?
I tried to decompress the BIOS but with no luck. Can anyone help me with this problem / i.e. unlock the resolution in BIOS, decompress the BIOS or update the Video bios.
It costs me the 80Euros and now i am stuck with the blank screen.
Thank you!