Driver Agent, one of esupport.com's flagship products, makes it easy for the average user to scan a computer for out-of-date drivers and software. In addition to the Driver Agent software, BIOS Agent helps customers locate the best BIOS stock BIOS image for their computer. For users who are tentative about upgrading their computers to the latest version of drivers and software, Driver Agent shows you out of date drivers with an effective online web scan.
BIOS-Mods.com had the opportunity to review the software to assess whether or not it is truly a viable solution for the average consumer to keep their PC up-to-date. From our first impressions, we were satisfied overall with the ease of use in running the software and finding what was out of date. After testing on several different workstations, Driver Agent was mostly accurate at finding the best drivers for hardware installed on the machine. In some cases, OEM drivers for pre-built machines did not always select the right driver, but rather a similar driver was selected that wasn't quite the best match. However, in these cases the downloaded driver reports that it is not compatible with the system, preventing the wrong driver from being installed in most cases.
For consumers using somewhat dated and legacy computers, Driver Agent is extremely useful in installing drivers that are no longer available on the manufacturer's website. We were particularly impressed with the repository of legacy drivers it had for some of our older machines that we tested the product on.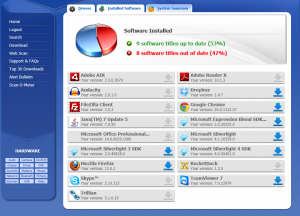 Recently, Driver Agent has recently introduced a software panel which checks common applications installed on the computer to see if they too are up to date. While there are many products on the web that already do this, we found it convenient that it was one click away after checking the status of the machine drivers.
In addition to being able to scan and update both drivers and software from the website control panel, the user is able to review previous scans from other computers that the scanner has analyzed. This is quite useful for reviewing history across several machines and ensuring that all the computers you own stay up to date.
As a whole, the Driver Agent software is user friendly and easy to setup. While we didn't always get 100% accuracy when comparing the files in the database to the one's we expected to see, it wasn't very difficult to retrieve the correct file after the fact. In the event this should happen to a user and the driver does not install, customer support is readily available to help find the right driver for your system and send it to you directly.
For more information on Driver Agent, please visit http://driveragent.com/. While this may not be for advanced users who are meticulous about manually updating their machines, it is an easy solution for the average user who may not have enough background experience to assess what drivers they should install to keep their system up to date.