Archive for February, 2011
Our team of experts works daily to help modify and update your BIOS, and answer your requests within 24hrs.
What is a Bios? A BIOS is defined as a Basic Input Output System.The BIOS is boot firmware, designed to be the first code run by a PC when powered on. The initial function of the BIOS is to identify, test, and initialize system devices such as the video display card, hard disk, floppy disk and other hardware. The BIOS sets the machine hardware into a known state, so that software stored on compatible media can be loaded, executed, and given control of the PC. This process is known as booting, or booting up, which is short for bootstrapping. One of the most important elements of the BIOS for the user is the setup screen, where users can configure startup options and push PC hardware to its limits.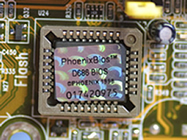 Where do we come in? As the modern age of technology exponentially grows in complexity, so does the BIOS. Bioses become more complex, larger in size, and harder to understand. Not only do they become more complicated, but OEM manufacturers (HP, Dell, Acer, etc.) attempt to limit their BIOSes capabilities, to prevent users from running their computer at specifications that could be dangerous to the system. This includes disabling Overclocking abilities, CPU Microcode Updates, uncertified wireless cards, and much more.
Click here to read more...
The ASUS Crosshair IV Formula motherboard is one of ASUS' latest motherboards for the AMD platform. A fully featured ATX motherboard using the 890FX chipset, the Crosshair IV can handle today's latest standards. USB 3.0, Sata 6Gbps, Crossfired GPUs, and six-core Black Edtion CPUs are  all "standard" features that are supported on the 890FX chipset. Not only is it equipped with the latest hardware specifications, but its ability to Overclock and tweak on demand in the BIOS, Windows, and even remotely from another computer makes this board worthy of your Black Edition CPU.
In our test rig at BIOS-Mods, we tested the AMD Phenom II 1090T X6 BE paired with 8GB of G.SKIL DDR3 1600mhz of RAM. We were impressed by how high of an overclock could be achieved, and how simple it was to do with the BIOS and tools ASUS provided in the setup CD. By using the "AI Tweaking utility" in the BIOS, we were able to overclock from 3.2Ghz to 4.2Ghz without any knowledge of the overclock. Here's how it's done:
Click here to read more...