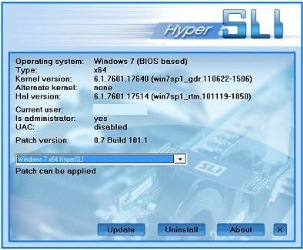 With the release of Dell Alienware's M18x laptop, many gamers and enthusiasts have been impressed by the performance seen with its dual NVIDIA GTX 580M SLI graphics cards. Owners of the M18x predecessor, the M17x-R2, upgraded their laptops from the 285M SLi configuration to that of the 580M SLI platform, thinking it would be an easy upgrade to make their laptop of equal value in comparison to the M18x. Unfortunately, while the 580M cards were installed correctly, SLI was not enabled in the driver as the graphics upgrade was not natively supported by Alienware or Dell, effectively only allowing the use of one GPU. Now, that's no longer the case.
Anatolymik, author of HyperSLI, has developed a modified driver allowing M17x-R2 users to enable SLI on their laptop for the full graphics performance and experience. HyperSLI enables SLI with a click of the mouse on motherboards and chipsets normally considered to be "non-SLI" compatible. With the advent of HyperSLI and its wide range of success on a variety of systems, HyperSLI was adapted with the addition of a modified driver based off NVIDIA's latest ForceWare version 290.53. By installing HyperSLI and the modified driver, users can have the same SLI capabilities that M18X owners currently have.
How does it work? – It's pretty easy.
First, download the HyperSLI patch from here and run it. You will need to disable UAC and be running as Administrator in order to install the patch.
(For more information on HyperSLI for other systems, take a look here).
Click here to read more...