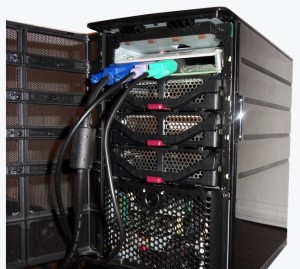 The HP MediaSmart Server is a versatile OEM Windows Home Server Version 1 product, and is well known for its low power consumption and small form factor. Several months ago, BIOS-Mods helped several other developers compile a BIOS image that would enable true dual core and quadcore CPU support for the EX485 platform to have similar if not better performance than the emerging EX495. After many successful upgrades without BIOS modification, it was established that there were several issues with sleep and shutdown with the "R0″ revision Intel CPUs.
The modding then plunged onward with flashing the EX495 BIOS to the EX485. This was very successful, except there was an incompatibility with the fan speeds and it was determined it would not be a suitable solution. After another few attempts, a bad image was produced and indeed "bricked" the MediaSmart server at BIOS-Mods. Several other owners were also affected.
For anyone who wishes to recover from a bricked BIOS on their Mediasmart after a bad flash, BIOS-Mods now has a proven method for BIOS recovery. Please note if you are testing images for RAID or CPU support, it is reccomended that you always preserve the bootblock, which the recovery method relies upon.
Click here to read more...
The ASUS Crosshair IV Formula motherboard is one of ASUS' latest motherboards for the AMD platform. A fully featured ATX motherboard using the 890FX chipset, the Crosshair IV can handle today's latest standards. USB 3.0, Sata 6Gbps, Crossfired GPUs, and six-core Black Edtion CPUs are  all "standard" features that are supported on the 890FX chipset. Not only is it equipped with the latest hardware specifications, but its ability to Overclock and tweak on demand in the BIOS, Windows, and even remotely from another computer makes this board worthy of your Black Edition CPU.
In our test rig at BIOS-Mods, we tested the AMD Phenom II 1090T X6 BE paired with 8GB of G.SKIL DDR3 1600mhz of RAM. We were impressed by how high of an overclock could be achieved, and how simple it was to do with the BIOS and tools ASUS provided in the setup CD. By using the "AI Tweaking utility" in the BIOS, we were able to overclock from 3.2Ghz to 4.2Ghz without any knowledge of the overclock. Here's how it's done:
Click here to read more...