Dear Community,
It has been quite a while since I have updated our members and visitors on the site's status and discussed where we are looking to continue improving upon BIOS-Mods' reputation as the number one BIOS/hardware modification community on the internet.
The amount of data we have collected on the BIOS modification process is tremendous. Over the past several years, we have successfully unlocked hundreds of motherboards and have created a readily available repository of modified BIOS images. As BIOS-Mods continues to gain user requests and interest in unlocking new motherboards with the latest technologies, we have continued to provide modified images for many mainstream consumer platforms thanks to the dedication, time, and effort of many talented community members.
As all of us at BIOS-Mods have busy lives and busy schedules, it requires many individuals to come forward to help others modify their BIOS images and add to the repository to assist both new and veteran users. While many of our normal moderators and I have had a very busy few months, this process has been somewhat reliant on the enthusiastic folks in our forums as of recent. Many users have also requested that more information become publically available on our website for learning how to modify various BIOS images. While some of this information is available, there is a fair amount of work to be done in order to update our public knowledge repository with the latest techniques and methods.
Click here to read more...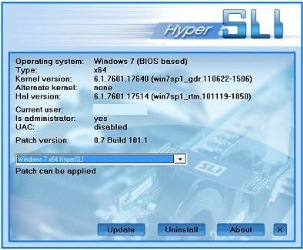 With the release of Dell Alienware's M18x laptop, many gamers and enthusiasts have been impressed by the performance seen with its dual NVIDIA GTX 580M SLI graphics cards. Owners of the M18x predecessor, the M17x-R2, upgraded their laptops from the 285M SLi configuration to that of the 580M SLI platform, thinking it would be an easy upgrade to make their laptop of equal value in comparison to the M18x. Unfortunately, while the 580M cards were installed correctly, SLI was not enabled in the driver as the graphics upgrade was not natively supported by Alienware or Dell, effectively only allowing the use of one GPU. Now, that's no longer the case.
Anatolymik, author of HyperSLI, has developed a modified driver allowing M17x-R2 users to enable SLI on their laptop for the full graphics performance and experience. HyperSLI enables SLI with a click of the mouse on motherboards and chipsets normally considered to be "non-SLI" compatible. With the advent of HyperSLI and its wide range of success on a variety of systems, HyperSLI was adapted with the addition of a modified driver based off NVIDIA's latest ForceWare version 290.53. By installing HyperSLI and the modified driver, users can have the same SLI capabilities that M18X owners currently have.
How does it work? – It's pretty easy.
First, download the HyperSLI patch from here and run it. You will need to disable UAC and be running as Administrator in order to install the patch.
(For more information on HyperSLI for other systems, take a look here).
Click here to read more...
BIOS-Mods has grown over the last ten years to be the largest BIOS Update and Modification Resource on the internet. Started in 2001, it has grown to be the largest site for taking requests and completing motherboard BIOS modifications through our forums, live chat interface, and digital resources. After changing administration in 2009, the growth in community support in our forums has been overwhelmingly positive. During this month, (December 2011), our traffic levels exceeded the bandwidth available on our current servers, and we purchased dedicated servers so that our community could continue to grow without limitation.
We invite our community users to take an active part in our forums. As we continue to add new experienced moderators, writers, and contributors to our team, we would like to extend an invitation to our members to get involved in serving over 100,000 visitors a month and counting. Below are some ways in which you can help contribute to our community.
Click here to read more...
Become a moderator

– We actively recruit new moderators who can moderate our forums and contribute to our daily BIOS modification requests. Even if you have no experience in modifying BIOS images, our current staff and moderators will help ensure you get the resources and training you need to contribute.

Join our writing staff

 - If you are a talented writer and are a computer enthusiast of any kind, we welcome new writers to contribute user reviews of new hardware, software, and other technology news. If you aren't interested in writing articles, perhaps you may enjoy writing tutorials in our forums.
As we continue our quest to enhance users BIOSes, a new general technique has emerged that has proven more successful than previously thought. Coined Retail BIOS matching, many of us here at BIOS-Mods have had great success unlocking motherboards that share similar characteristics to other retail boards. This concept is a rather new approach, as people were advised against it because the odds were so little of a successful flash.
So what has changed that is redefining this technique? The first major change is that BIOS developers are now programing in languages such as C over the traditional ASM model. This is true especially in CPU Upgrading, where AMD AGESA is written in C and contains a wrapper for vendor written code. This is a significant change because now we are seeing a new scope of coding where manufacturers simply tie their code into a wrapper or a DLL. As the source code becomes more universal, manufactueres simply concern themselves with the details, while the underlying source stays the same. With the evolution of coding in C, DLLs have also made their way into the BIOS. Looking at the bigger picture, with developers merging to a common middleground it has made modding even more realistic as certain BIOS ROMs have become more "compatible" and interchangable with others. Referring back to the AGESA module as an example, versions 3.x and up are now upgradable from almost any other BIOS, which means upgrading to future versions of Phenom on older BIOSes has become quite a reality.
Click here to read more...